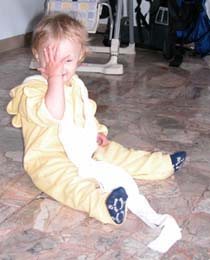 I like wearing Mommy's clothes!
(Yes, that is my bra)
Isabella's Developmental Update(s)
Isabella is 17 months old today. She weighs exactly 10 kilos (22 pounds), and is under 3 feet tall. I couldn't get close enough to her with the measuring tape. I'll catch her eventually though. She's off and running now. She's outgrown (and practically destroyed) several pair of shoes, and already LOVES to shop for them and clothes. :) She's already started to wear mine, actually. It's pretty funny watching her walk around the house in my heels. I'll have to see if I can track down the video. Isabella also likes to wrap Mommy's soft clothing around her neck like a feather boa.
She's also speaking Italian. No, really. Well, she says "ciao", and "amo". "Amo" means "I love" in Italian, but for her, it's an abbreviated form of "andiamo", meaning "let's go". She also understands everybody just fine. Better than we do, I think. Her English vocabulary includes Grandma, toes, shoes, glasses, baby, duck, puppy dog, nose, hat, Pooh, Eeyore, Owl, and Tigger. She's suddenly taken a liking to hats, too. She's frequently seen wearing our souvenir Alpine hats from Octoberfest (yes, often accompanied by my heels).
She loves it when her Daddy comes home, so she runs down the hall and into his arms to greet him. Needless to say, Dave LOVES this. Of course, she also loves chasing birds and dogs. ;-) Isabella has also just discovered crayons. She's drawn several lovely pictures, and we've mailed them off to Grandmas. Well, that's about it for now, time to chase her down again!